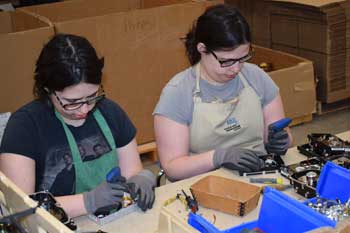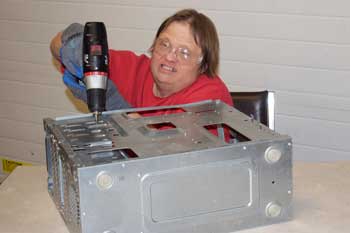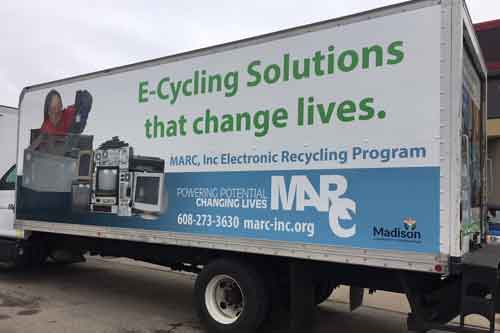 The importance of CHOICE,  the joy of WORK, the power of COMPASSION.
Electronics Recycling (e-Recycling)
Madison Area Rehabilitation Centers (MARC) electronics recycling program is available to all Dane County residents and businesses. This program provides a convenient, environmentally conscious process for disposing of unusable electronics.
Remember to think "Reuse" first! If your electronic equipment is still functioning, consider donating it to MARC for a tax-deductible donation and to extend its useful life.
Electronic Recycling Collection Times
Monday – Friday 8:00 A.M. to 3:00 P.M.
(Excluding Holidays)
Price List
Printers, copiers and fax machines are $5

CRT televisions and monitors less than 32" $20

CRT televisions and monitors greater than 32" $30

Shredding of hard drives along with an emailed "certificate of destruction" is $5

Otherwise, all other accepted items are FREE, just drop them off.
Pricing and arrangements for pick-up of business equipment should be made by
calling 608-273-3630 or by visiting us.
Televisions *
Computers
Notebooks
Routers
Network cards
Printers
Facsimile machines
Signal converter boxes
GPS devices
Monitors *
Mobile phones
Servers
DVD players
Video game systems
Game controllers
Image scanners
Mobile Phones
Telephones
Digital audio players
Computers
Laptop computers
Digital cameras and projectors
Modems
Computer accessories
Copiers
Cable and satellite receivers
Video cassette recorders
Video display devices
Any fossil fuel or materials used in collecting fossil fuels.
Any PCB materials or Ballasts manufactured prior 1980.
Any equipment that contains chemicals of any kind.
Any equipment that contains Freon.
Fluorescent tubes and vacuum tubes.
Any infectious or biological wastes or equipment that contained them.
Any materials that would adversely impact our operations or result in environmental or health problems.
Any liquid.
Any media contaminated with oil.
Any chemicals, oils, or powders.
Any equipment that contains asbestos.
For more information, please contact:
Tenaya Grant, Program Director, or Scott Poffinbarger, Warehouse Manager call 608-273-3630
3 Convenient Drop off Locations
1. Marc-West 
805 Forward Dr. Madison
2. MARC-Stoughton 
932 North Page St. Stoughton
3. MARC-Mt. Horeb 
225 Blue Mounds St. Mt Horeb
Location Directions: