The importance of CHOICE,  the joy of WORK, the power of COMPASSION.
Together, MARC is making a difference in the lives of individuals and the community!
We want to share a few highlights of what your donations to the MARC Foundation of Dane County has made possible.
We want to share a few highlights of what your donations made possible.
Being successfully employed in community has been a dreamcome true for 250 individuals across MARC.
The MARC Pet Companion program has helped comfort and reassureindividuals at MARC and in community.
125 individuals have been able to attend ball games, volunteerat a food pantry or nursing home, and be a part of an amazing

community.
At MARC we want to offer even more opportunities to be a contributing part of the local community to folks like Matthew (read his story on the right). However, to work and volunteer in the community requires unique transportation and MARC recognizes this as an important ongoing priority.
Our goal is that the MARC Foundation's 2019 fund drive will greatly assist MARC, Inc. to write a grant for the purchase of two new wheelchair accessible vehicles through a $20,000 grant. Could you, would you help us make that happen?
Michael Lawton
MARC Foundation President
Mary Anne Oemichen
MARC Board of Directors
Please be a part of making a difference.
Make a donation to the MARC Foundation of Dane County today!
Any size helps get individuals into their communities to work, volunteer, and give back.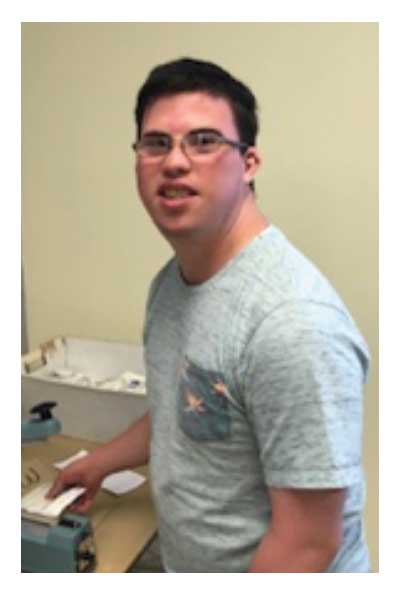 When Matthew Heil graduated from Stoughton High School in 2011, he wanted to become involved in the Stoughton community through his work. Matthew chose to partner with MARC–Stoughton to meet those goals.
MARC–Stoughton was able to secure Matthew a job with Stellar Services recycling boxes. In the beginning, Matthew was able to recycle just ten boxes and hour, and now with the support of his job coach and fellow Stellar employees number has increased to 225 boxes in a regular basis.
What made the difference? His can-do attitude, the support of a strong job coach, and his relationships with his friends and coworkers in the community.
Over the years, Matthew has increased his work hours, learned to accept necessary changes, understand the need for flexibility and above all grown remarkably independent.
That independence has resulted in his participation in neighboring community businesses  organizations such as Special Olympics sports, GIGI's Playhouse while frequenting a host of other businesses in the community.
Matthew is a success because he KNOWS "he can."
Learn More About the MARC Foundation