MARC enhances the quality of life for adults with developmental disabilities by advocating for full inclusion in the community, fostering opportunities for self-worth and dignity, and providing a broad array of support services tailored to individual strengths and needs.
We emphasize the importance of choice, the joy of work, and the power of compassion. Now more than 65 years old, MARC enhances the lives of more than 300 adults at six locations and at more than 130 community-based job sites. MARC offers seven programs that provide a unique combination of services.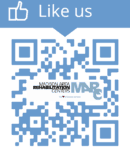 Scan the QR code with the camera on your phone to take you to our Facebook page to like it!
MARC is committed to ensuring that no person is excluded from, participation in, denied the benefits of, or otherwise subjected to discrimination on the basis of race, color, national origin, disability, sex, age, religion, income status or limited English proficiency (LEP) in any and all programs, activities or services administered by the City of USA in accordance with Title VI of the Civil Rights Act of 1964 and related nondiscrimination authorities. LEARN MORE